Paying for refreshing beverages, food, and more by using special festival cards – Revolution Payment System (RPS) – became standard practice at all major world-renowned festivals, and EXIT was the first one in the region to embrace this advanced payment solution. You can buy drinks, food, and souvenirs using RPS.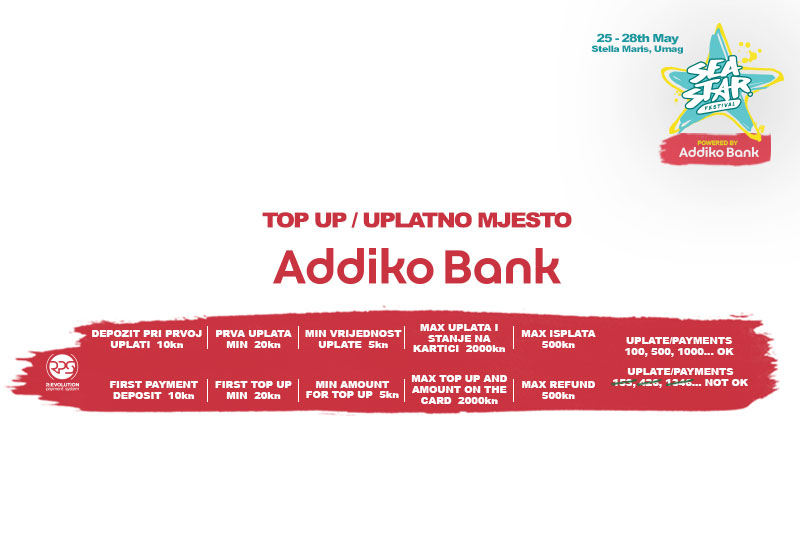 INSTRUCTION MANUAL:
STEP 1: BUY-A-CARD
Buy your card at points at the festival clearly marked with TOP UP. Once you fill up your card with money, you'll be charged a 10 KN activation fee. For example, if you deposit 100 KN for the first time, you're charged the activation fee which is 10 KN, thus the card will be left with 90 KN. This activation fee is refunded when you return the card at the end of the festival.
STEP 2: CHOOSE AN ITEM
After you have chosen your favorite drink or food, place the card against the card reader, and the amount paid for the order will automatically be deducted from your card.
STEP 3: CHECK BALANCE
You can check the remaining credit on your card at any time, by placing your card against the card reader at a festival.
Warning! Make sure that nobody is paying for their order before you place your card against the card reader to check balance, so that you don't get charged for somebody else's order.
STEP 4: REFUND
If you haven't spent all your credit on the card, the maximum amount that can be returned is 500 KN. This is done at any TOP UP point.