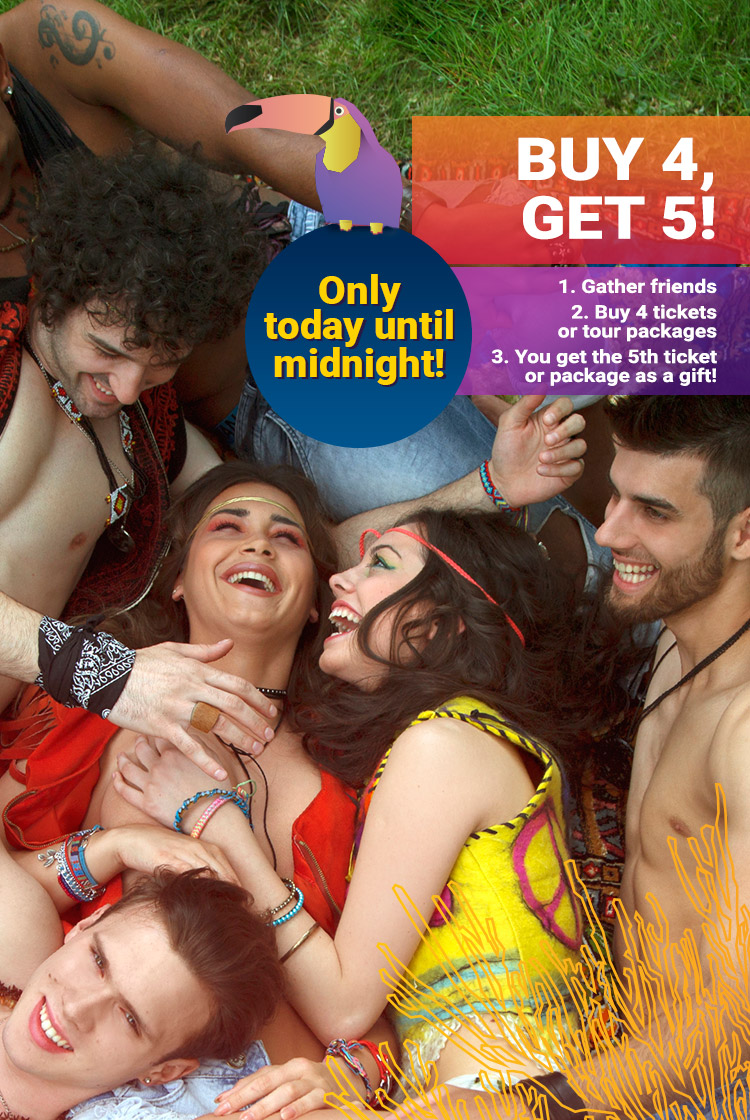 BEST OFFER:
Buy 4, get 5
"Buy 4, get 5", colloquially known as the "4+1" offer is the most successful Exit's offer and all the fans of Umag's Sea Star will be able to use from today. Behind the simple 4=5 mathematics there is the idea that makes it easier for any group of friends to go to the festival.
Namely, friends who buy four festival tickets at once will get the fifth Sea Star ticket for free! That's not all, this offer involves the possibility to purchase 4 festival packages (accommodation + transfer) and get a fifth for free!


Just like the festival itself, the camp is located in the beautiful Stella Maris resort in Umag, across from the festival venue, and it is categorized as a four-star camp. The combination of a crystal blue lagoon, sunbathing, beautiful architecture of Umag, numerous attractions, new friendships and fun in the sea is the perfect introduction to the summer.
Package price per person: 69€

Package price for 5 persons: 348€
POLYNESIA


These apartments are the right choice for those who like sunbathing and swimming, because they have the largest swimming pool in Umag! Add a good price, a wonderful sea view and apartments with wireless internet, satellite television and other amenities, only a 10-minute walk away from the festival, it is clear that guests of Polynesia apartments will enjoy themselves immensely before they start partying at Sea Star Festival.
Apartment: for 5 people

Distance from Umag city center: 2km

Distance from Sea Star festival: 50m

Package price per person: 80€

Package price for 5 persons: 402€


Kanegra Bungalows are located near some of the most beautiful beaches in Croatia. The property is situated directly on the Adriatic Sea on one of the most picturesque bays in Istria. Bungalows accommodate comfortably four to six people. Spend the day soaking in the sun on the pebble beach and then dance the night away to the gorgeous Sea Star festival that is just 7km away from the resort. Beside rich gastronomic offer, internet corner, supermarket, resort offers sport activities as well such as beach volley, multi-purpose ground, tennis courts, mini golf, water sports, bike trails with the possibility of renting bikes.
Bungalows: for 5 persons

Distance from Sea Star festival: 7km

Distance from Umag city centre: 9km

Distance from nearest beach: 100m

Package price per person: 91€

package price for 5 persons: 458€


With a special emphasis on the design of the apartments, fun and recreation, Sol Katoro will be a perfect part of your summer. Aside from the telephone, wireless internet and LCD satellite television, this apartment offers other premium amenities such as being right next to a shady pine forest, a gravel beach and an outdoor pool.
Apartment: for 5 people

Distance from Umag city center: 3km

Distance from Sea Star festival: 1.6km

Package price per person: 91€

Package price for 5 persons: 458€