Sun, hot temperatures and warm sea are all awaiting Sea Star festival-goers at the Stella Maris lagoon in Umag!
Second edition of Sea Star Festival starts with Welcome Party on Thursday May 24, whle on Friday May 25 and Saturday May 26 young people from all over the world will party in full force with world and regional music stars such as Robin Shulz, Hurts, Paul van Dyk, Dimitri Vegas & Like Mike, Ofenbach and many more. Festival will come to an end in Sunday early morning hours with the Closing Party.
Here is all the info you need in order to enjoy your Sea Star Festival experience to the fullest!
1. TICKETS
2. LINEUP, TIMELINE AND MAP
3. SEA STAR ACCOMMODATION
4. TOURIST INFO
5. WEATHER FORECAST
6. FESTIVAL TRANSPORT
7. SEA STAR PAYMENT CARD
8. CASH REFUND
9. SEA STAR FESTIVAL RULES
10. LOST AND FOUND
11. FIRST AID
12. ENTRANCES
13. PARKING
TICKETS
There is a very limited number of Sea Star Festival tickets left so hurry up and get your before they are sold out! Get all the info on the current prices and tickets availability here.
Entry to Welcome Party (May 24) and Closing Party (May 27) is free.
Exchange spots for festival and VIP tickets
Exchange spots for festival and VIP wristbands will be open from Thursday May 24 at the main entrance. In order to prevent long queues for exchange on the first festival day, we urge you to exchange your vouchers before the festival starts.
To book yourself a table in the VIP section please call +385919059342.
Working hours of the voucher exchange locations
Thursday May 24, from 12 PM to 8 PM
Friday May 25, from 10 AM to 3 AM
Saturday May 26, from 10 AM to 3 AM
A personal document is required during the exchange process for the purpose of determining the nationality.
Due to the emergence of resellers, we appeal to visitors to purchase tickets for the festival at the official retail spots or at the festival entrance, in order to avoid potential problems.
LINEUP, TIMELINE AND MAP
You can find Sea Star Festival lineup by following this link, and a detailed timeline can be found here. THE TIMELINE IS SUBJECT TO CHANGE! All information will be available at the festival's info stand situated between Addiko Tesla Main Stage and Nautilus Arena.
A map of the festival can be found here: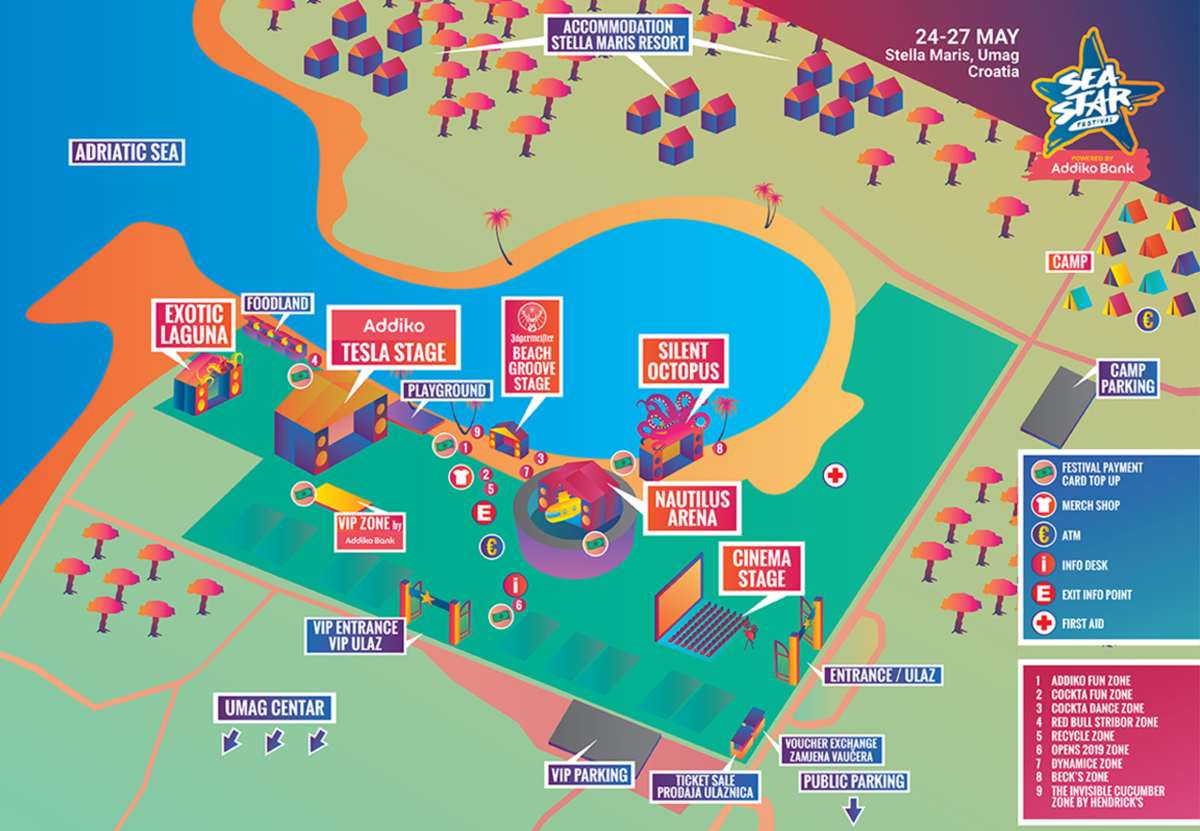 SEA STAR ACCOMMODATION
Sea Star camp is definitely the most popular point of Sea Star visitors, both domestic and foreign, a place where the party never stops, in the beautiful lagoon of the Stella Maris complex, a few hundred meters from the sea and a mere 50 meters from the festival itself.
Camp will be open from May 24 to May 29. Apart from the camp, the visitors who have yet to arrange their accommodation will have the Kanegra nad Park Umag apartments at their disposal, and all the info can be found at the reception desks.
TOURIST INFO
Information on how to reach Umag, as well as all the info on how to get to the festival can be found on our web page.
Important phone numbers and addresses:
Number for all emergencies 112
Police department 192
Fire department 193
Ambulance 194
HAK – Help on the road (+385 1) 1987
Search and rescue at sea (+385 1) 195
Free phone of the city of Umag 0800 200 145
Tourist association of the city of Umag, Trgovačka 6, (+385) 52 741 363
Pharmacies:
Škoko pharmacy, Trgovačka 3, (+385) 52 751 396
Vaše zdravlje pharmacy, Jadranska 11, (+385) 52 743 287
ATMs and an exchange office can be found within the festival limits.
WEATHER FORECAST
The weather is on our side! Everything the Sea Star festival-goers could wish for is waiting for us – sunny sky and warm weather.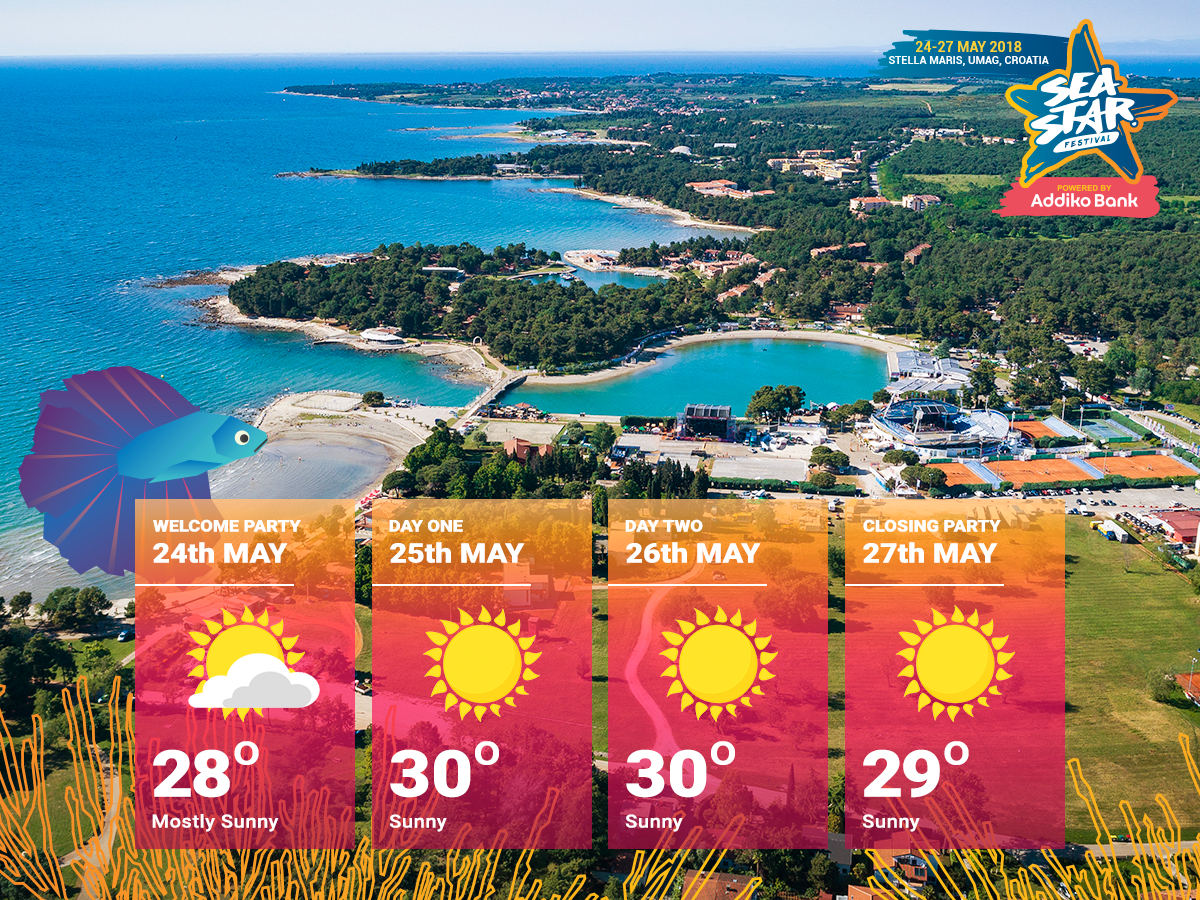 FESTIVAL TRANSPORT
Organized shuttle transport route: Kanegra – Savudrija – Stella Maris (Sea Star) – Savudrija – Kanegra.  Bus will operate from May 25 at noon until May 27 at 5 AM. Price is 100 HRK per person for unlimited amount of drives.
More info at the CampingIN Pineta Saudrija campsite reception desk.
SEA STAR PAYMENT CARD
Sea Star festival, in cooperation with Addiko bank, presents the Sea Star card, available with the modern contactless card. By using the card for cashless payments you can pay for food, drinks and festival souvenirs. Your card can be purchased at any festival register marked with TOP UP and put a certain amount of money on the card. First payment deposit is 15 HRK, minimal first payment amount is 20 HRK, and minimal amount after that is 5 HRK.
After ordering your favorite food or drink, you can pay for it by simply placing the card against the card reader available at every bar. You can also use this to check the status of your card at any moment. Make sure that no one is paying at the moment you are checking your card status, as the amount could be taken off your card.
Any leftover amounts can be refunded at any register up to the max amount of 500 HRK. You need to do this before leaving the festival.
CASH REFUND
Cash refund has to be done before leaving the festival, on Saturday until 5am and after that until Sunday at 8pm on Silent Disco stage.
SEA STAR FESTIVAL RULES
Here you will find a list of things you can bring to the festival venue as well as things which are for forbidden:
YES – backpacks (max. size – school backpack)
YES – hats and caps
YES – lighters
YES – cell phones and tablets
YES – sunglasses
YES – cigarettes
YES – small umbrellas
YES – raincoats
YES – contact lenses liquid
YES – photo and video cameras (with an approved press pass)
YES – insulin (with a diabetes documentation and personal documents)
YES – medicine (with an original doctor's report and original packaging)
NO – drugs and substances
NO – knives and other weapons
NO – bottles and cans
NO – instruments
NO – food and beverages bought outside of the festival venue
NO – tents
NO – pets
NO – large umbrellas
NO – covers
NO – selfie sticks and GoPro cameras
LOST AND FOUND
Lost & Found counter is situated at the accreditation office next to the VIP entrance. After the festival ends, it will be in the city, Police station Umag, Jadranska cesta 11.
FIRST AID
Sea Star will have Red Cross, First Aid and the fire department teams at the ready on all four nights. In case you need any kind of help, feel free to talk to the members of security, who can be recognized by their fluorescent vests.
ENTRANCES
There are three entrances to the festival:
• Entrance 1 – Tickets entrance – at the main road
• Entarnce 2 – from the lagoon restaurant
• Official entrance and VIP entrance and VIP guests – at the south side of Stella Maris
Entrances working hours
Thursday May 24, 7 PM – 3 AM – free entrance // Entrance 2 (from the restaurant)
Friday May 25, 10 AM – 3 AM – free entrance from 10 AM to 7 PM, wristband checking from 7 PM to 3 AM // Entrance 1, Entrance 2 / VIP entrance
Saturday May 26, 10 AM – 3 AM – free entrance from 10 AM to 7 PM, wristband checking from 7 PM to 3 AM // Entrance 1, Entrance 2 / VIP entrance
Sunday May 27, 5 AM – 12 AM – free entrance // Entrance 1, Entrance 2, VIP entrance
Camp entrance
Camp gates are opening on Wednesday May 23 at 8 AM and closing at midnight. It will be open during the whole festival, from Thursday May 24 until Sunday May 27 non-stop. The camp gates are closing on Monday May 28 at noon. Entering the camp zone is possible only with camp and festival wristbands.
Due to the expected huge crowds at the festival, we kindly ask the visitors to arrive earlier to the festival in order to miss the crowds at the entrance. You can enter the festival only at the clearly marked and secured entrances, only with the ticket, festival ticket or accreditation.
Festival entrance
Thursday and Sunday: Festival entrance is free.
Friday and Saturday:
During the day, from 10 AM to 7 PM festival entrance is free for everyone and festival wristbands will not be checked.
Festival wristbands will be checked from 7 PM until 3 AM. During one night (after 7 PM) you can enter the festival only once. There is no re-entry if you wish to leave the festival site during the night and you will have to buy another ticket if you do so.
Apart from the festival security, the entrances are controlled by the police as well, in order to avoid bringing in of forbidden objects and substances. Vehicles cannot enter the festival zone without appropriate credentials.
PARKING
There is a public parking just next to the festival priced at 40 HRK, located just couple of hundred metres from the venue. However, the visitors are highly recommended not to come with their own cars, due to the expected busy traffic.